The founder, Eric Hicks!
Unable to concentrate for lengths of time and focus on his classes, Eric dropped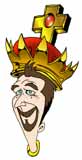 out of high school with a GPA of 1.67 and began studying chess, a game he learned to play at the age of 5. He began playing in chess tournaments and quickly became one of the top 100 players in the US for his age category. This success gave Eric the confidence and motivation to enroll in junior college and later be accepted into UC Berkeley, where he graduated with honors.
While Eric was at Berkeley, he wanted to give the community what chess had given to him. He began teaching chess rules to inner-city elementary school students, taking special interest in the most problematic students in each classroom.
During this time, he developed a "cool" teaching method, which employed the use of flamboyant stories, fun rap songs, and creative rhymes to capture the interest of his students and keep them from dismissing chess as a game for "nerds". Not only did these kids learn to enjoy the game of chess, but to everyone's amazement, they excelled at it. After just six months of chess instruction, one of the schools in which Eric taught won second place in the state championships against teams who had studied chess for many years.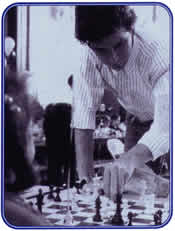 Upon graduating from Berkeley, Eric began working at a software design company, but soon missed working with kids and teaching them a game of substance.
In his spare time, he began teaching chess in local school again, this time teaching entire student bodies. Eric learned that chess had enormous benefits to students of all ages, and not just students with difficulties learning.
As more and more schools heard about the program through word of mouth and press coverage, Eric became committed to teaching chess in as many schools as possible.
Eric began interviewing, selecting, and training a core group of professional chess instructors who shared a commitment to enriching the lives of children with the game of chess. In 1994, he founded Academic Chess and the after-school program that funded the work going on in the classrooms. Since its inception, Academic Chess has spread in schools throughout California, Nevada, and Utah, and has taught 100,000 elementary students in over 200 schools the game of chess. Academic Chess is a growing organization of individuals committed to promoting chess among children.
Bringing chess to a level that kids can understand is the motivation for Academic Chess' unique style of teaching this beautifully complex and ancient game. The original stories and songs developed by Eric are still being used our teachers because they are so effective in teaching. Academic Chess continues to grow, but the basic premise for its success will continue to be Eric's dedication to helping kids understand chess, and more importantly, sparking their imagination while doing so.